Saturday March 16 is
World Wide Quilting Day
.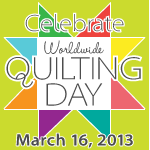 What are you doing to celebrate?
I am going to a Modern Quilt Guild meeting- it will be the first time I have gone to that guild. It sounds like fun, huh?
And since, I have already been to a few quilt stores this week, I think I will then spend a little time sewing. Seems appropriate doesn't it?
Go out and celebrate!
Happy quilting,
Kate
P.S. One of the stores I have been to twice in the past week is
Snappy Quilts
. It is their two year anniversary! Happy anniversary Snappy Quilts!
If you haven't been, go! Lots of fun, modern fabrics!